Testimonials
Customer Satisfaction can mean many things to different people. At James A. Wheat & Sons we attempt to provide plumbing, heating and air conditioning services beyond your expectations. We understand that customer satisfaction starts with your first phone call to the office and does not end when our mechanic leaves your home. We are not happy until you are happy. With our 100% satisfaction guarantee, we will ensure your air ducts, bathrooms, air conditioners and heaters are the way you want them to be – in perfect condition.
Our office staff is continually striving to answer your phone calls with less hold time and provide ease of scheduling. We understand that customer satisfaction in today's world means providing HVAC services that don't have you waiting at home all day.
Our mechanics understand that you want a clean, drug free, well trained, certified mechanic that listens to your concerns and needs. Address them with options and our contractors can professionally perform those tasks for a fair price with warranties.
Our company understands that our job has not ended just because we have left your home. We performed a plumbing, heating or air conditioning service and we stand behind that service. We are not above mistakes. At James A. Wheat & Sons we stand behind our work and will make every situation right. If we make a mistake, we will address it. At James A. Wheat & Sons, our name is our reputation. Should you ever have a concern, complaint or compliment about any of our HVAC services, we want to know about it.
We have listed a few of our customer testimonials about work we did on their heating and cooling systems, air ducts, bathrooms and fireplaces. We are listed in many service provider ratings websites such as Angie's List. Please feel free to call for references. Your satisfaction is of the utmost importance!
Best Pick Reports 2015 Report Card
Our heating system wasn't working, but James A. Wheat & Sons made it work. They job was well done. They deserve an "A."

Best Pick Client

James A. Wheat & Sons worked on the gas furnace. They took a look at it just to make sure everything was working properly for the tenants who were living in the property. They were punctual, and everything was done to our satisfaction. It's a great company. I'd give them an "A."

Best Pick Client

They were very professional, and they seemed to have a really good knowledge of heating and air conditioning systems. They seemed to be very organized, too. I would recommend them. We chose them because they're a Carrier dealer. I would grade them as an "A."

Best Pick Client

They worked on my air conditioning, and they did well. The guy who gave me the estimate was on time. He was friendly, and he didn't try to oversell anything. The technicians who came to do the work were efficient. They treated it as a simple job, which it really should have been. Some of the other companies I spoke to oversold the job and made it complicated. I would recommend James A. Wheat & Sons, and I would give them an "A."

Best Pick Client

James A. Wheat & Sons answered all the questions we had, and they were very pleasant. They were on time and very clean, too. When they came in, they were very careful about not ruining anything in the house. I'd give them an "A."

Best Pick Client

James A. Wheat & Sons did what they advertised to do, and their price was fair. They were clean, and they did the work on time. They installed an eight-foot pump for us. I would recommend them. I would say they were an "A-."
Thank you for the generous in-kind donation of Delta faucets and shower bathtub valves, valued at $1,500.00. This donation will help Rebuilding Together continue its work to keep families in need at home in safety and independence.The course of one's life can change in the blink of an eye. For many who benefit from Rebuilding Together, they have worked hard their entire life and an accident or health issue has impacted their finances and their future. Montgomery County residents who are not able to financially or physically repair, modify or maintain their homes have few options available to them for help. Through Rebuilding Together, homeowners now have a place they can turn to remedy code violations, improve safety hazards, and receive accessibility modifications to allow them to remain independently in their own homes.Thank you again for your support of Rebuilding Together. The community begins at home – together with the community, we are repairing homes and changing lives.
Susan H.
I recently contracted with your company to complete repairs to a damaged air return and install new heating ducts in my basement room. Please know that your staff completed the work in a professional manner and in the timeframe promised and I am writing to express my thanks for a job well done!! The words, however, do not convey my true thanks for the recent work completed at my home. What appeared to be an insurmountable task in repairing the damaged air returned was accomplished by your experienced and knowledgeable staff with ease. The sales representative (Mr. James Mulvehill) and the quality manager (Mr. Bruce Hanson) worked together to design a solution to the problem that avoided my having to cut into the wallboard for access to the main heating unit in order to make the necessary repairs. I welcome relief on my part.In addition, your experienced staff of Kris and Shawn completed the installation of the new heating ducts in the time scheduled and as competent professionals. They were both courteous and helpful in answering all of my many questions and they completed the work despite my interruptions. Good work often goes unnoticed or unrecognized and I feel it is important that you know these individuals should not go un-noticed for the work at my home. True professionals make a difference every day and your team has these professionals. Thank You.
Joe C.
First off, I wish to express our satisfaction with service performing on our air conditioning unit yesterday by your service technician, Cliff. My husband was impressed by the work that was done efficiently, quickly, and at a reasonable cost. My husband contacted your company yesterday morning. He was told there were no openings and to call back today to schedule service. As it turns out, he was notified yesterday afternoon and advised that an opening had become available; the tech could be at our house in twenty minutes. Since our home was so uncomfortable due to the reduced capacity of the air conditioner, that was welcome news. I was in possession of a coupon for $25.00 off any repair that was clipped from the Verizon Yellow Pages for Northern Montgomery County dated January 2005. I found it yesterday and expected to leave it at home for what I thought would be today's visit. However, I was at work and unable to leave on such short notice yesterday.
Jan M.
I have been impressed with your company and its people from the day your sales person walked in here, through all service personnel, and now.By the way, this is a fantastic system. Our energy costs are much lower than before, the airflow is practically unnoticeable, the air temp inside is even, the humidity constant, and we have had no failures since installation.
Mau V.
What Can We Do For You?
Contact Us Today!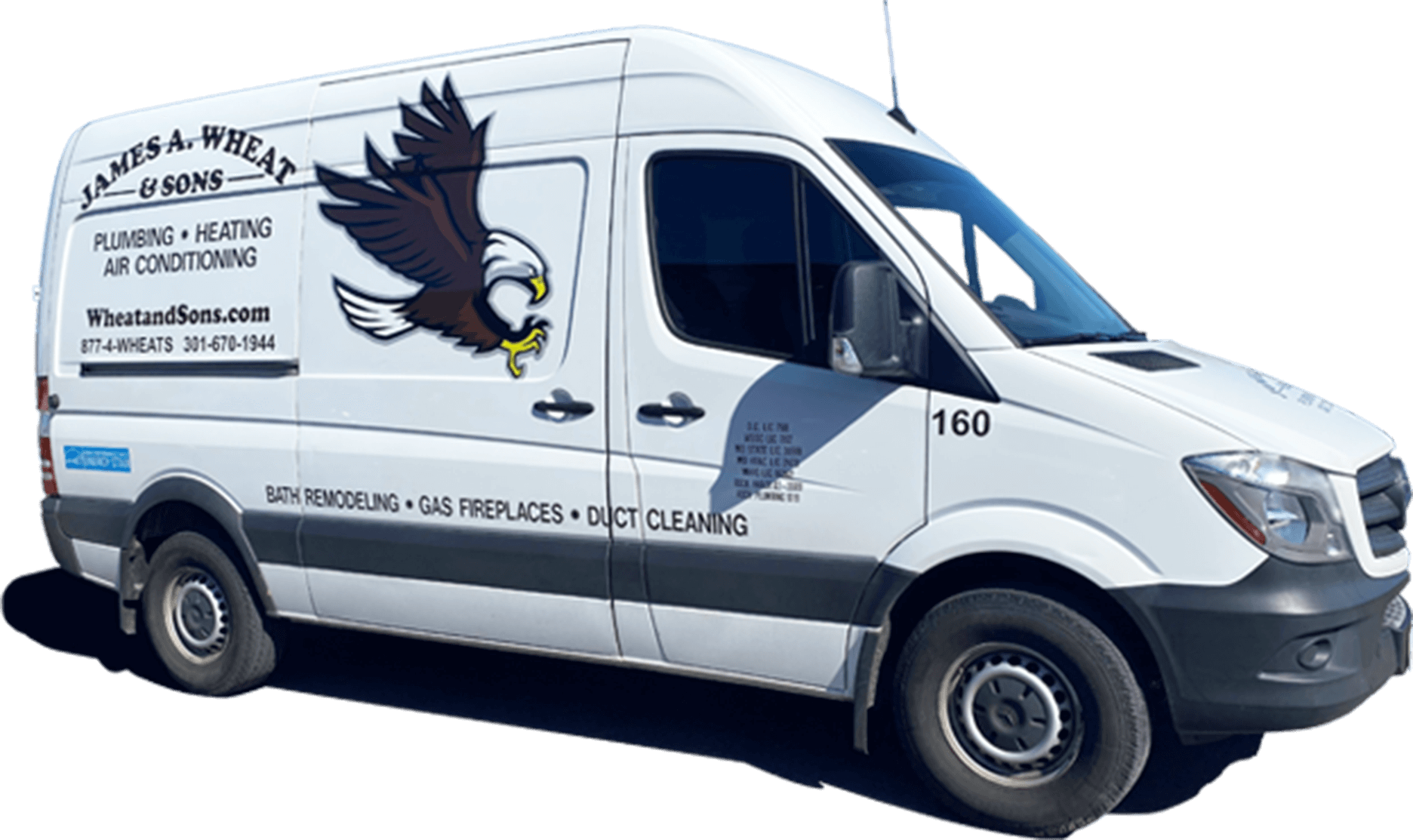 We Treat You Like Family
Let us ensure that you have the highest degree of home comfort and become part of the James A. Wheat & Sons family.
Same Day Service
Lifetime Warranties
Free Service Calls
Trained Technicians
Friends & Family Discounts
And Much More!
Learn More