Testimonials
Customer Satisfaction can mean many things to different people. At James A. Wheat & Sons we attempt to provide plumbing, heating and air conditioning services beyond your expectations. We understand that customer satisfaction starts with your first phone call to the office and does not end when our mechanic leaves your home. We are not happy until you are happy. With our 100% satisfaction guarantee, we will ensure your air ducts, bathrooms, air conditioners and heaters are the way you want them to be – in perfect condition.
Our office staff is continually striving to answer your phone calls with less hold time and provide ease of scheduling. We understand that customer satisfaction in today's world means providing HVAC services that don't have you waiting at home all day.
Our mechanics understand that you want a clean, drug free, well trained, certified mechanic that listens to your concerns and needs. Address them with options and our contractors can professionally perform those tasks for a fair price with warranties.
Our company understands that our job has not ended just because we have left your home. We performed a plumbing, heating or air conditioning service and we stand behind that service. We are not above mistakes. At James A. Wheat & Sons we stand behind our work and will make every situation right. If we make a mistake, we will address it. At James A. Wheat & Sons, our name is our reputation. Should you ever have a concern, complaint or compliment about any of our HVAC services, we want to know about it.
We have listed a few of our customer testimonials about work we did on their heating and cooling systems, air ducts, bathrooms and fireplaces. We are listed in many service provider ratings websites such as Angie's List. Please feel free to call for references. Your satisfaction is of the utmost importance!
Best Pick Reports 2015 Report Card
Our heating system wasn't working, but James A. Wheat & Sons made it work. They job was well done. They deserve an "A."

Best Pick Client

James A. Wheat & Sons worked on the gas furnace. They took a look at it just to make sure everything was working properly for the tenants who were living in the property. They were punctual, and everything was done to our satisfaction. It's a great company. I'd give them an "A."

Best Pick Client

They were very professional, and they seemed to have a really good knowledge of heating and air conditioning systems. They seemed to be very organized, too. I would recommend them. We chose them because they're a Carrier dealer. I would grade them as an "A."

Best Pick Client

They worked on my air conditioning, and they did well. The guy who gave me the estimate was on time. He was friendly, and he didn't try to oversell anything. The technicians who came to do the work were efficient. They treated it as a simple job, which it really should have been. Some of the other companies I spoke to oversold the job and made it complicated. I would recommend James A. Wheat & Sons, and I would give them an "A."

Best Pick Client

James A. Wheat & Sons answered all the questions we had, and they were very pleasant. They were on time and very clean, too. When they came in, they were very careful about not ruining anything in the house. I'd give them an "A."

Best Pick Client

James A. Wheat & Sons did what they advertised to do, and their price was fair. They were clean, and they did the work on time. They installed an eight-foot pump for us. I would recommend them. I would say they were an "A-."
Dear Mike,I am writing to say thank you for the great service today. Tim Whistler came to install my gas oven and range. There were a couple of challenges along the way, beginning with the way the gas line had been routed up through my floor . Another challenge was the fact that I have propane, so each burner assembly had to be adjusted accordingly. I liked Tim's magnifier app on his phone. It helped him see the small numbers that were necessary to read.Tim patiently worked through the challenges and got the oven/range installed. He then spent as much time as it took to check out each of the functions. In particular, I was looking for a way to adjust the burners to burn lower (so as not to burn my rice). Tim was able to find the way to do that. Finally, he was not satisfied until he figured out the reason for the smokiness coming from the oven. After looking through the customer service information, he found that there is a waxy residue on the flame cover in the oven from the manufacturing process that should be removed with mild detergent. Problem solved.Throughout the time Tim was here, he was a pleasure to work with. My husband runs a sizable landscape company and we are well aware of the power of good customer service. Tim was capable, professional, patient and thorough at all times. I congratulate you on a great technician. I will ask for Tim Whistler from now on, but I have a feeling that he is not the only great technician there.
Patricia R.
I wanted to make a special note about how professional Mr. Carey was when he visited our home to conduct the estimate. In the last couple of weeks we have spent hundreds of dollars and met with multiple HVAC companies to fix our air conditioner, and we haven't been impressed with any of them. We actually had a couple other technicians scheduled to come out later this week and give estimates, but after meeting Mr. Carey we cancelled those appointments. Mr. Carey's representation of James A. Wheat & Sons was impeccable. He was extremely professional and a great representative of your company. Even though we've never official had any HVAC work done by your company I would still recommend you guys to anyone looking for a good and honest HVAC company based off our experience with Mr. Carey alone.
Nick H.
Danilo and Ken were here on June 16 to do my AC check. They were extremely thorough at the time and even made sure that my hose connections were nice and secure. today one of my units was not cooling (it may have been that a circuit breaker tripped—I thought I had checked but perhaps I didn't see the red indicator because I didn't use a flashlight to look carefully) and I called. I was delighted that Wheat was able to arrange for someone to come yet today. I was even more pleased when it was Danilo and Ken again since I knew they would check carefully and figure out what the problem was. They did and it is now again cool in my home. Thanks for having professionals to help me out when I need it. That's why I have an ongoing Eagle agreement. And, on the news today, there was a story about a guy who called a company (at random) and got thoroughly ripped off and wasn't able to get satisfaction even through Seven on your Side!I am also glad to see that the assorted Montgomery County booklets that list top-rated companies for all sorts of home service things, continues to list Wheat for both HVAC and Plumbing year after year.
Susan W.
What Can We Do For You?
Contact Us Today!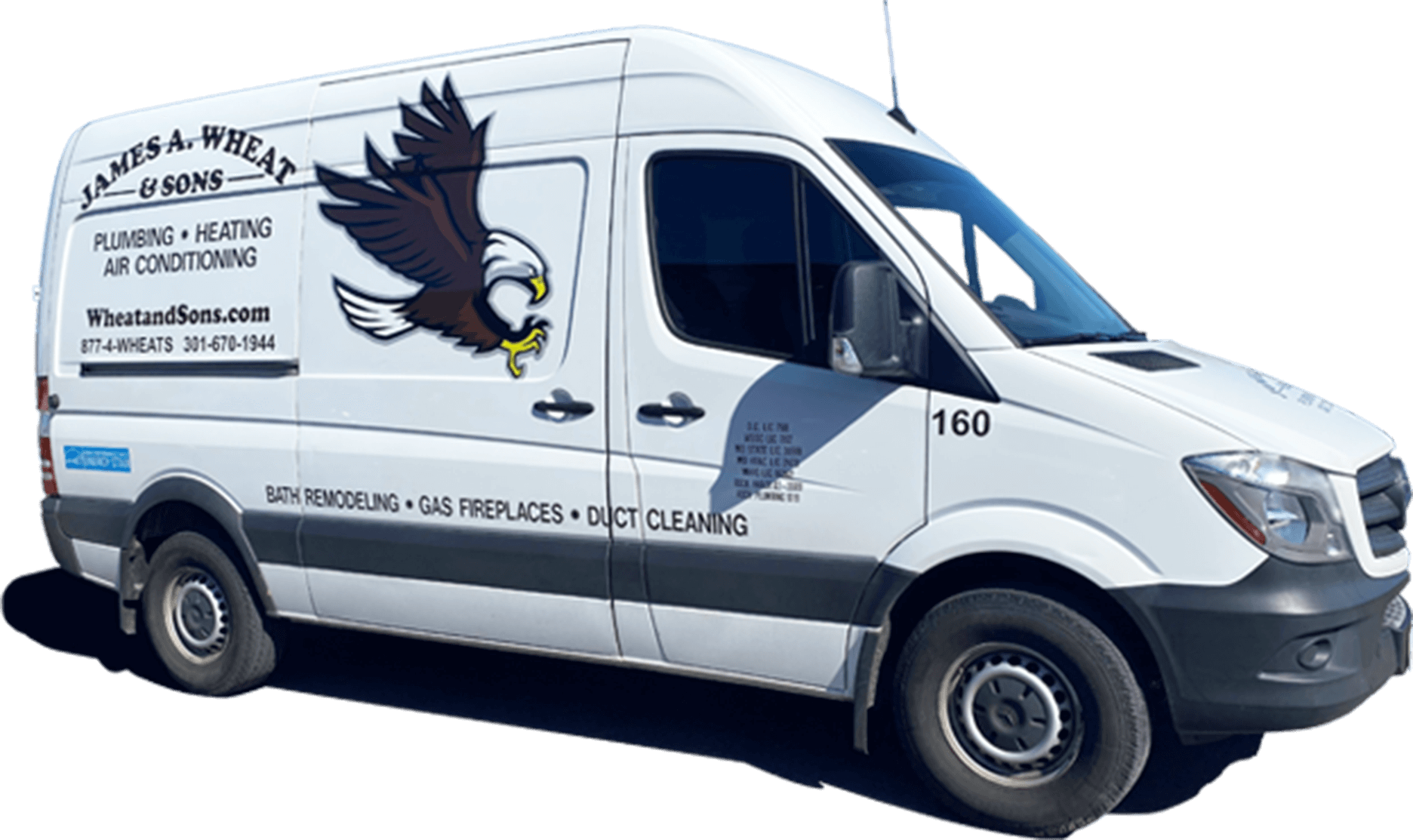 We Treat You Like Family
Let us ensure that you have the highest degree of home comfort and become part of the James A. Wheat & Sons family.
Same Day Service
Lifetime Warranties
Free Service Calls
Trained Technicians
Friends & Family Discounts
And Much More!
Learn More