Water Heater Services in DC & MD
Your water heater is an important part of your home—there's really no denying that! It provides all the hot water throughout the house, whether you're taking a shower, washing the dishes, or doing a load of laundry. It's important that it's working properly at all times! At James A. Wheat & Sons, we offer a full range of water heater services in the Gaithersburg area for traditional and tankless water heaters, including:
If you need water heater services in Montgomery County, MD, call the experts at James A. Wheat & Sons today—our number is 240-399-5051.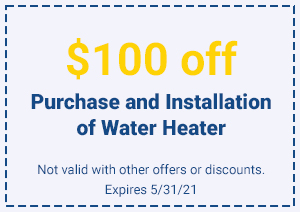 Our water heater services
Water heater installation
Whether you're taking a shower or washing your hands, not being able to get enough hot water can be frustrating. So what do you do when you find yourself taking lukewarm showers and battling to get the water temperature past tepid? Well, it's probably time to start thinking about having a new, energy-efficient hot water heater installed. A new water heater installation can not only improve your water temperature but also help you decrease your utility bills.
Water heater replacement
When your water heater isn't operating at its full potential, the results can be less than satisfactory. Whether you're rushing through a lukewarm shower every morning or you have to keep cleaning up after your leaking tank, sometimes repairs just aren't enough. If your water heater is old and performing poorly, it's time to start thinking about a water heater replacement for your home. A new water heater can not only improve your water temperatures but increase your energy efficiency too.
Water heater repair
Are you having problems with your water heater? Rushing through the end of your showers because the water temperature has started to rapidly decline? Paying increasingly higher water bills month after month? Stop putting up with the hassle! Have your water heater repaired quickly and reliably by the professionals at James A. Wheat & Sons.
Water heater maintenance
If you want to ensure your water heater is going to perform optimally, you need to schedule annual water heater maintenance. Not only can this improve your water heater's performance, but it keeps your unit in tip-top shape and can help reduce the likelihood of inconvenient breakdowns down the road.
Tankless water heater services
Thinking about replacing your old storage tank water heater and upgrading to a more efficient model? You should consider installing a tankless water heater! Tankless water heaters are among the most efficient water heaters available and offer a number of great benefits.
Schedule your water heater services today
When you need water heater services in Montgomery County, MD, there's only one name you need to know, and that's James A. Wheat & Sons. Your friends and neighbors have trusted us with all their plumbing and HVAC needs since 1977, and we're dedicated to providing high quality service and products. Contact us today to schedule your service!