Water Heater Installation in Gaithersburg, MD
Whether you're taking a shower or washing your hands, not being able to get enough hot water can be frustrating. So what do you do when you find yourself taking lukewarm showers and battling to get the water temperature past tepid? Well, it's probably time to start thinking about having a new, energy-efficient hot water heater installed. A new water heater installation can not only improve your water temperature but also help you decrease your utility bills.
To schedule a consultation today for your water heater installation in Gaithersburg, call James A. Wheat & Sons at 240-399-5051 or fill out the form on this page.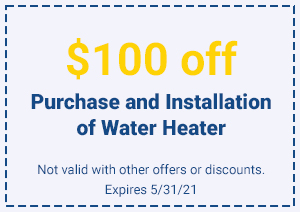 Types of Hot Water Heaters
A new water heater installation is a big investment, and one that you and your family will rely on for years. There are many options to choose from, and they all have different costs and efficiency levels. Therefore, it is important to know the different types of hot water heaters that are available when purchasing one for your home.
Conventional Hot Water Heaters
Conventional hot water heaters are the most popular type of water heaters, and they operate by storing hot water in a tank and releasing it as needed. These often have the lowest upfront costs.
Demand or Tankless Water Heaters
Demand water heaters (also called tankless water heaters) heat water directly when it passes through a heating element, which eliminates the heat loss usually experienced with storage tanks. They usually have much lower operating costs than conventional water heaters.
Heat Pump Water Heaters
Heat pump water heaters operate by using electricity to move heat that has already been generated from one place to another. This makes them highly efficient, so while they have higher initial costs than conventional water heaters, this is offset by their very low operating costs.
Indirect Water Heaters
Indirect water heaters operate by diverting water from your boiler to a heat exchanger and then into your faucets. Even though they require a storage tank, they are the most efficient type of water heater since the stored energy allows the furnace to turn off and on less often.
If you live in Maryland or Washington, DC and are ready for a water heater installation in your home, call James A. Wheat & Sons today. Our trained technicians can walk you through the selection process and help you choose the hot water heater that's right for you, based on fuel availability, size, energy efficiency, and your budget.
Schedule Hot Water Heater Installation in the Gaithersburg Area Today!
Don't put up with another lukewarm shower, contact James A. Wheat & Sons today to schedule your hot water heater installation in Gaithersburg, Germantown, or the surrounding Maryland areas.
You May Also Be Interested In: